On January 26, 2023, QUALITYstarsNY testified at the New York State Senate Children and Families Committee public hearing on New York's child care crisis. Dona Anderson, the Executive Director of the New York Early Childhood Professional Development Institute, delivered the testimony on behalf of QUALITYstarsNY.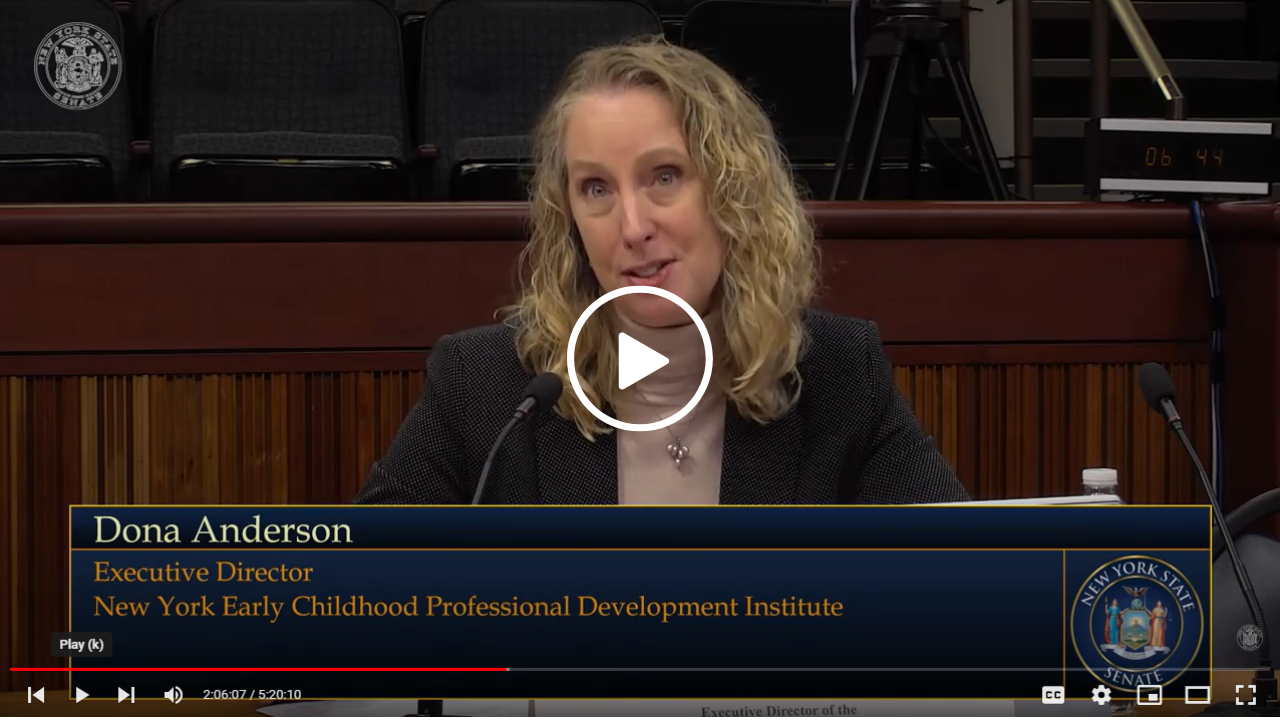 Watch the video of QUALITYstarsNY's testimony at the hearing.
QUALITYstarsNY emphasized that all families, regardless of where they live in the state, deserve access to high quality child care. QUALITYstarsNY, as the state's Quality Rating & Improvement System for early childhood, provides quality assurance and accountability to safeguard New York's multi-billion state and federal investments in early learning. The testimony asserted that New York State owes it to our youngest learners to ensure that polices are enhancing access while also investing in each program's commitment to increase & sustain their quality.
QUALITYstarsNY illustrated how its model of continuous quality improvement has been proven effective in increasing program quality, noting that, among re-rated programs, 70% increased or sustained a high quality rating of 3-5 Stars after three years of continuous quality improvement work.
Additionally, the testimony highlighted how QUALITYstarsNY actively supports the early childhood workforce by providing a diverse offering of professional development opportunities. Early childhood professionals, including a large number women of color, have historically lacked access to higher education opportunities that offer higher compensation. Systemic barriers have reinforced these inequities. QUALITYstarsNY is a system that promotes equitable educational opportunities and access to all levels of professional development supports.
"The early childhood workforce is historically underpaid and unsupported. QUALITYstarsNY has increased accessibility to professional development, helping thousands of educators and administrators grow as professionals. The scholarship programs support this essential workforce in pursuing early childhood degrees and advanced credentials, which they could not afford otherwise."
In closing, Ms. Anderson discussed the critical ways QUALITYstarsNY supported early childhood programs during the pandemic and lasting investment needed from New York State to sustain the impact of QUALITYstarsNY into the future. In 2021, the state allocated $35 million in funds from the American Rescue Plan Act of 2021 (ARPA) to QUALITYstarsNY, which has allowed the project to expand participation and provide the support early childhood programs so desperately needed during the pandemic.
"With the ARPA funds, QUALITYstarsNY will be able to more than double in size and serve 2,250 early childhood programs; however, we cannot stop there. The new programs QUALITYstarsNY is currently expanding to support will continue to need our services in the years to come, as will many additional programs, in order to ensure families have increased access to high quality child care across the state."
QUALITYstarsNY requested an increase in annual funding from $5 million to $20 million in the New York State budget for fiscal year 2023-2024 (FY 2024) to ensure more early childhood programs, and the families they serve, can benefit from the comprehensive services that QUALITYstarsNY provides to support program quality.
Read the full written testimony QUALITYstarsNY submitted to the NYS Senate Children & Families Committee. Download QUALITYstarsNY's Investing in the Quality of New York State's Early Learning System 1-pager.