Kerion Scarlett of Corlies Christian Child Care had the pleasure of meeting with First Lady Dr. Jill Biden during her visit to DAY ONE Learning Community in Poughkeepsie, NY.
Kerion Scarlett is a graduate of DAY ONE's Teacher Apprenticeship Program (TAP). The TAP is an intensive, full-time eleven week apprenticeship program for teachers interested in teaching in early childhood classrooms. During the eleven week apprenticeship period, a group of up to twelve teachers are selected to participate in the program. Each apprentice teacher is placed in a model early childhood setting side by side with a mentor teacher for five hours each morning. Early childhood settings include centers, family and group family care, and nursery schools. In the afternoon, the apprentice teachers gather for a collaborative seminar.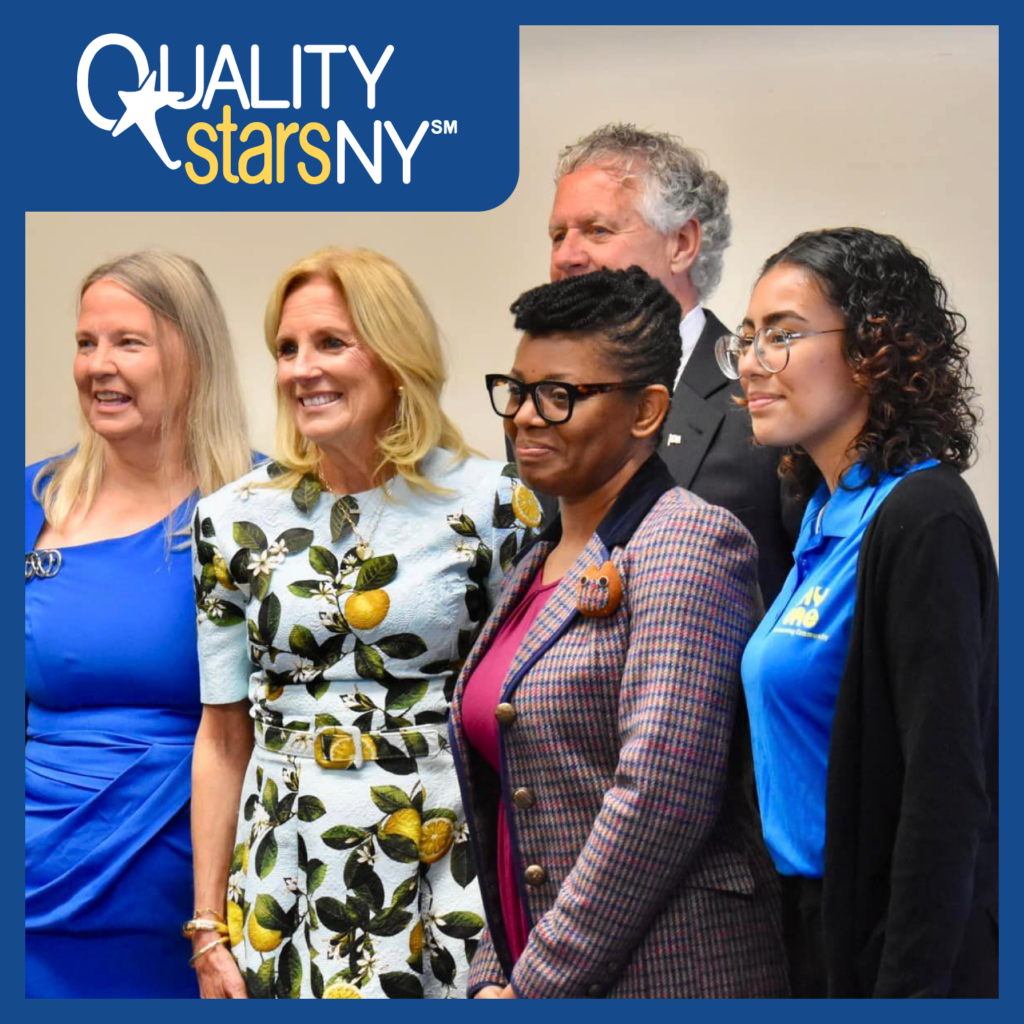 What has brought you to this point in your career?
I knew I wanted to work with children and knew my ideas of working with children were old school. My goal was to open my own family child care program. I enrolled in the Teacher Apprenticeship Program at DAY ONE in Poughkeepsie.
They help me understand child development, how children learn, and what I can do to foster their growth. I learned children learn through play.
Julie Riess from DAY ONE called me to share that the White House had selected me and another former graduate of this program who is currently providing child care in our community. I received a call from the White House letting me know what to expect. It was overwhelming and truly a moment of a lifetime.
When I met the first lady, she asked me how I learned about this program and asked me what I love about my job. I told her "I enjoy seeing the children learning new things in my program, seeing families noticing how much their children are growing and learning, and knowing that I am part of creating a safe environment".
How has participating in QUALITYstarsNYsupported you in your role as a Family Child Care provider?
QUALITYstarsNY has been a blessing to Corlies Christian Childcare. I was suggested to enroll in the Desert Grant and work with QUALITYstarsNY, not realizing the wonderful opportunities it offers my program. My specialist, Carmelita, helps us to set goals and supports us in obtaining them. She has shared resources with my staff and guided us to the proper training that can be helpful to develop the skills we need. QUALITYstarsNY is a second eye, they encourage us to improve on things we may not have noticed and we sometimes need someone from the outside looking in. We talk about interactions with our children and the materials and how we can create areas of interest for the children. I trust QUALITYstarsNY to help us to obtain our goal of becoming a high-quality child care program for our children.
As an early child care professional what have these opportunities meant to you?
I just want to learn more, and these opportunities have made me feel I am accomplishing my goal as a family day care provider who is passionate about her job!
For the last few years, in every city I visit and at nearly every event – whether we were there to talk about military spouses, or cancer programs, or community colleges – people have told me that one of their biggest challenges is child care.

I know you've seen that challenge here in Poughkeepsie too, but you met the moment.
First Lady Dr. Jill Biden at DAY ONE Early Learning Community