Wellsville Early Learning Center is located in Allegany County in Western New York.
As a new program, it can be hard to meet all the staffing, administration, and operational needs a child care center requires to run smoothly. When juggling a range of responsibilities, it can be hard to maintain the same level of focus on the quality of care and education provided to children. QUALITYstarsNY participants know this balancing act and how the extra support from our team can quickly improve conditions for program leaders, their staff, and the children in their care.
Wellsville Early Learning Center joined QUALITYstarsNY in October 2022, and since then has been able to accomplish many of their goals thanks to the help of their Specialist. Executive Director Brianna Simms says that their center's QUALITYstarsNY participation has helped them implement policies and procedures that create the highest quality environment for children and staff, provide quality improvement planning to increase educational standards and foster diverse and inclusive programming, and access learning materials and furniture for classrooms and outdoor space to enhance large motor activity.
Learning materials provided by QUALITYstarsNY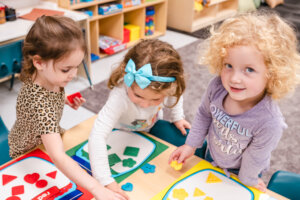 "As a new center, it can quickly become overwhelming navigating all the ins and outs of operating a quality program. Working with our Quality Improvement Specialist Jill Boeck through QUALITYstarsNY was truly a blessing through this process. Offering constant guidance as well as best practices laid out, helped us to be the best that we could be right from the start. They also were quick to provide assistance financially for items that our center was missing and felt would add value to our program"

Brianna Simms, Executive Director