There's less than one month left to ensure that ALL children and families across New York are counted in the 2020 Census. The 2020 Census will be used to determine how federal funding is spent on a range of programs that impact New York's children and families. It's up to all of us in early childhood to help families understand why it's so important that they are counted by the October 31 deadline, and how to accurately count their household.
Order WE COUNT! Children's Counting Book about the Census
QUALITYstarsNY is partnering with the creators of the WE COUNT! children's book to help New York's early childhood programs support the families they serve with census participation.
Created by a team with expertise in early childhood education, diversity, and children's publishing, WE COUNT! is a colorful children's counting book about the census. By reading the book aloud together, children learn how to count and adults learn why and how to ensure each one of us is counted in the 2020 Census.
[Editor's Note November, 2020: QUALITYstarsNY is no longer offering copies of the WE COUNT! census book.]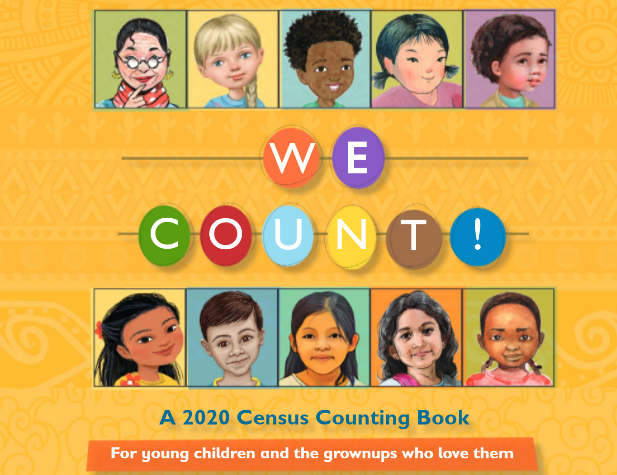 Why the Census is an Early Childhood Issue
In 2016, New York received more than $73 billion through 55 federal programs informed by the 2010 Census data. Resources such as Head Start, child care programs, public schools, food and housing support, early intervention services for children with special needs, children's health insurance, and more are all impacted by the census. Despite its importance, young children and babies are often under-counted in the census. Five million children were missed in the 2010 Census.
Many families have still not been counted and the deadline to complete the Census has been moved up to September 30. Moreover, families are more reluctant than ever to answer the door for census workers during the COVID-19 pandemic. Families need help from the early childhood community NOW to understand why it's safe and critical to be counted in the census and how to accurately count their household.
Watch our WE COUNT! Trusted Messenger Training to Learn How to Support Families with the Census
What the WE COUNT! Census PJ Party Read-Along Featuring Star of Disney's Moana
On September 17, we partnered with WE COUNT! to host a PJ viewing party featuring a video of Auliʻi Cravalho, the actress who plays Disney's Moana, reading WE COUNT! Watch the video to read along with your little one.